Our flours
from our home at your home
We at Mojà keep the rural tradition alive also with the production of flours with a typical Marche heart. We select only quality raw materials and, guided by experience and with an eye to the digestibility of the product, we scrupulously follow the artisanal methods in every transformation phase: from breaking the grain to sifting or grinding with natural stone, which favors the peculiarities of the individual cereals and keeps the flour alive.
STONE-GROUND
The stone-ground flours are the result of the milling of cereals as in the past. The grains are crushed between two large stones and the "full-body" crushing of the cereal allows to obtain rich, tasty and unique-tasting flours.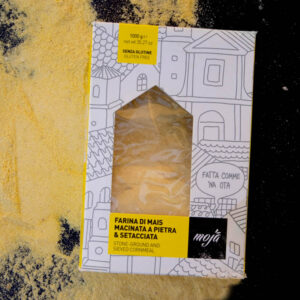 CORN FLOUR
Medium-grained, sifted stone-ground corn flour is the soul of polenta, but alone or mixed with other flours, it is also perfect for the preparation of bread, desserts, pancakes, crescias, tortillas, tacos, breading and batters for crunchy and dry frying. Due to the absence of gluten it is ideal in case of food intolerances.
WHOLEMEAL FLOUR
The stone ground soft wheat flour is the most essential, it preserves all the nutritional value of the grain of wheat and the stone grinding enhances its naturalness.
Ideal for pasta or baked goods with a rustic taste. Use it to prepare wholemeal tagliatelle at home in the manner of "Mojà".
SOFT WHEAT TYPE 0
The " 0 " type soft wheat flour is more refined, it comes from the grinding of a mixture of soft wheat varieties and its subsequent sieving. Ideal for the preparation of pasta, bread, breading or desserts and creams. Use it to prepare the tagliatelle at home with egg in the manner of "Mojà".